The world of Esports continues to grow, and although the main imagery of gamers leaning over computer screens on high end computers or jumping from their seats in front of their consoles such as PlayStations endures, the field of competitive gaming expanded recently as the world's first ever 5G mobile Esports tournament played at the Milan Games Week in Italy.
The world's leading telecommunications brand Vodafone Group teamed up with international gaming organizer and company ESL to launch the world's first ever 5G Esports Tournament at the ESL Arena at Milan Games Week 2019.
Vodafone has recently launched 5G in 4 countries in Europe earlier this year (Italy, Germany, the UK and Spain), becoming one of the first in Europe to launch at competitive prices.
The Vodafone 5G ESL Mobile Open invited players from 17 countries in which Vodafone is present, including Egypt, to play on a major stage at one of Europe's biggest gaming events, Milan Games Week.
The event itself, a staple for Esports fans, casual gamers, families and cosplayers to enjoy the embrace of the community and celebrate the world's fastest growing sport, Esports.
The World's First Mobile Tournament Played On 5G
At this year's AdColony Intelligence Summit last month, it was announced that survey findings revealed that 9/10 smartphone users played mobile games in MENA, while Egypt ranked #1 at having the most smartphone mobile gamers in the world.
A Newzoo research late last year also revealed that 47% of the global games market was mobile gaming, estimated to be worth $63.2 billion compared to the overall games market with an estimated worth of $134.9 billion.
Read ➤ What marketers need to know about Esports in Egypt
Vodafone Group, which has mobile operations in 24 countries, is jumping into the market more than ever with their partnership with ESL, who has also recently starting moving into the MENA region.
"Gaming is an extraordinary market, and is growing significantly in both users and traffic…" said Sabrina Baggioni, Vodafone Italy's 5G Program Director to Think Marketing, "with the partnership with ESL, we've been able to put together a very complete offer to our customers, from Esports competitions to [everyday] mobile gaming on 5G."
During Milan Games Week, the very first winner of the 5G tournament was Ledjon Feraj – also known as Future Flash'TM' – of Greece, who won €14K (249K EGP) after winning the Asphalt 9: Legends final.
As the first player in the world to compete and win on a 5G network, Future FlashTM said the experience was "Epic! I am really honored."
We caught up with our @VodafoneGaming #5G #ESLMobileOpen @asphalt Champion Future Flash™ after his victory for a quick interview! #PlayFaster pic.twitter.com/TRsKyYYtJA

— ESL Asphalt (@ESLAsphalt) September 29, 2019
The Vodafone 5G ESL Open Mobile included not just racing game Asphalt 9: Legends, but also included popular first-person-shooter (FPS) game PUBG.
Thousands of spectators watched live and on popular streaming platform Twitch as team Futbolist snagged the PUBG mobile top prize of €40K (713K EGP) as well as the title of being the first team ever to win using a 5G connection.
Talking about the players' experiences on 5G prior to the tournament, Baggioni told us "the feedback we already got from the few gamers that have tried 5G is that you can really see the difference in the experience straight away… [they say they] sort of forgot that they were using a mobile device [compared to a computer/console on broadband]."
Good Times For Brands And Esports
"The Esports industry made a total of $906 million in revenue. Out of this, $694 million came from brand investments – both direct and indirect. That's a 48% increase in brand investment from the previous year" states another Newzoo report. "The number of Esports Enthusiasts worldwide will reach 165 million in 2018."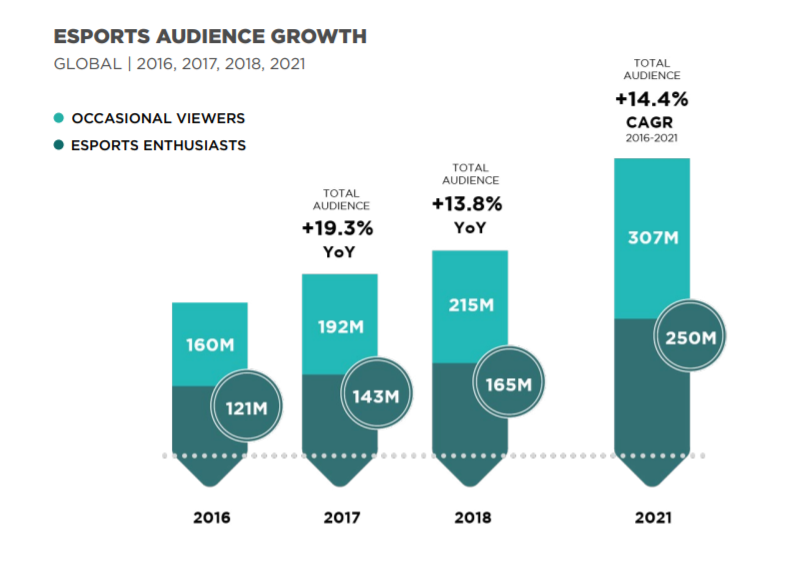 As the audience expands, starting from young children to the average gamer (32-34), the more brands should concern themselves with jumping into the Esports fold.
When discussing with Think Marketing, ESL Chief Commercial Officer, Thomas Schmidt stated that "the partnership with Vodafone is something more than just a partnership, it is a signal to the market."
Schmidt is talking about how brands have started to truly embrace Esports and what it can do to propel the sport forward; Vodafone's partnership with one of the biggest Esports organizers and companies in the world signals that world leaders in industries outside of Esports, gaming and traditional entertainment are starting to see the immense value in connecting with this particular audience.
"Vodafone is one of the pioneers in connectivity, already before the ESL partnership, [and] Vodafone has already been entering the gaming world [step by step] so we knew that Vodafone is at the fore-front of this," says Schmidt.
"[Vodafone] is a pioneer like ESL has been, it's global presence and it's obviously a great brand to work with." He also added, when asked about the reasons why ESL works with Vodafone.
Vodafone Group is one of the world's leading telecoms and technology service providers, with mobile operations in over 20 countries, approximately 640 million mobile customers, fixed broadband operations in 18 markets and 21 million fixed broadband customers.
Vodafone's local chapter, Vodafone Egypt, maintains over 40% of the total local mobile market share with about 40M customers